Robert "Bob" Gillroy, a longtime Laurel House participant, passed away in early March 2017. Bob was a brilliant artist, and his work has been displayed on Laurel House materials, and in our hallways, for many years. Bob had close friendships with his fellow Laurel House artists and even some friendly competition. Bob's sister Donna shared some of her memories of him in the letter below, and at Laurel House, we remember Bob every day as we view his beautiful paintings.
Robert A. Gillroy
October 14, 1951 - March 5, 2017
"My Dearest Brother, Robert..."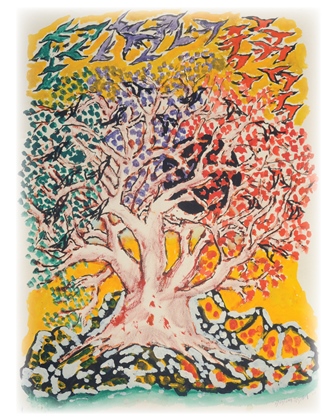 My dearest brother, Robert, loved his jokes – and he was always telling them, over and over again – like his retort when you asked, "Hey, Bob, are you hungry?", and he would say, "Nah, Hungry left here about a half-hour ago."
I don't know how he found these jokes – or remembered so many. He didn't watch TV and wasn't listening to standup comedians on his little transistor radio – so I asked him. He gave me his charming half smile, "Yah know, around, just around. People tell me jokes." Because before he was so physically sick, he got around and around….walking, walking, walking…. around his One Betts Place neighborhood by the sea in Norwalk, to the pottery studio, Laurel House and truckin' with his buddies….Lou, Donald, Jeanne, John – where they shared their home and neighborhood for 25 years.
I don't have as many friends as Robert has.... Nor will I ever hope to touch people's lives as Robert did. You could see it in their faces when they saw him again, or met him for the first time. The kindness was immediate.
We might be tempted to think Bob's life was a small life – we would be wrong. It was a big, big life lived with stunning courage. I never heard an unkind word, snide remark, or a single complaint, and he always wanted to know about you, and always talked about the great people he met – never about himself.
Yes. He struggled deeply his whole life. That big beautiful life had great pain, but also great joy. When joy and peace were at his door, it splashed and flowed through his paint brushes with bright broad brush strokes of soaring birds and astonishing riots of color. When the demon terror stood at the threshold unmoving, he sat with his white sheet of paper like a warrior prince clutching his black pencil like a sword and drawing tiny, intricate, sure lines of perfect precision – he drew boxes and steps, and boxes and steps and more boxes and steps….as if to say: "I will organize you terror – I will make sense of this fear and confusion, and I'll get back". And he came back to us, time after time from the world of terror. Each time, a bit more bruised and tired from each valiant battle – and the joke and half smile emerged again like the sun. And like clockwork he mowed lawns in the summer, shoveled snow in winter, cleaned his house with joy and helped all his neighbors in his big world on One Betts Place where everyone in the neighborhood loved him. He was Robert.
My dearest, dearest Robert was one of the greatest spirit lives I will ever know – not because I have loved him from the bottom of my soul for eternity – but because I aspired to his extraordinary commitment to life - and to the love he had for so many – especially his family–
I remember one infamous lively Gillroy family Thanksgiving – circa '82 –and Robert was in a hospital in Fairfield Hills CT. He went AWOL. Jumped the fence and hitched all the way to Stamford – 25+ miles in the freezing cold. He showed up at the door and I said, "Bob what are you doing here?" And he said, "It's Thanksgiving and I want to be with my family. When do we eat?" He always wanted to be a part of it all – the world and everyone in it – and to always keep on keeping on against incredible obstacles and even tougher odds. He never saw the mountain, just the next step he had to take.
And he keeps on today. Only now he is running again.....full out.....full bore..... full lungs, ripping down the beach he loved, and diving head first into the salty surf and celebrating life with every stroke of his big, beautiful, brown-as-berry-body, and I can hear him shouting:
"Hey, Donzi, isn't this the greatest!"
Yes, Robert, your big beautiful life and heart are absolutely the greatest.

- Donna J. Gillroy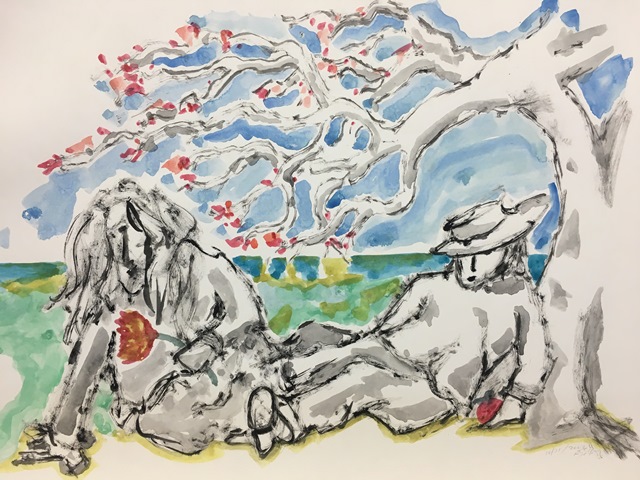 About Bob and his Family
Robert Andrew Gillroy, age 65 of Norwalk, CT, died peacefully Sunday, March 5, 2017. Bob was born in Stamford on October 14, 1951, the son of the late Kenneth M. Gillroy, D.D.S. and Dorothy Andrews Gillroy. He was raised in North Stamford and graduated from Stamford Catholic High School. Bob attended DePaul University in Chicago where he studied art and later attended Arizona State University. He worked for the Stamford Advocate and then Keystone Employment Services. A gifted artist and sculptor, Bob created many original paintings and sculpture, and had long and close friendships with his fellow artists at Laurel House. Some of Bob's work was sold at fundraisers for Laurel House and Keystone in Norwalk. Bob had a keen love for music, especially drums. He enjoyed sports and was an accomplished baseball player in his youth.


Donna J. Gillroy, Robert's sister, is principal in Gillroy + Associates, Inc., and lives in Naples, FL. Robert's surviving family also includes Kathleen Oberle and her husband Richard of FL and NC, William Gillroy and his wife Sheila of GA, Teresa Gillroy, his niece Colleen Lumbert all of FL, and cousins Mary Margaret Poschel, her husband Jerry, John Gillroy and his wife Margaret.