Volunteer Program
Without volunteer support, Laurel House could not achieve its mission of recovery. It takes time, money and commitment to provide people with a place to work, learn and engage with others. By being a volunteer, you are helping to make a difference in someone's life. For many, Laurel House is their only family. Recovery requires a network of support.
You can help support mental health recovery by volunteering at Laurel House.
Help is needed in Food Service and preparation, Supported Education tutoring, and specialized skill building workshops such as the Artists', Writers', and Cooking Workshops.
For a list of Volunteer Job Descriptions download our volunteer brochure.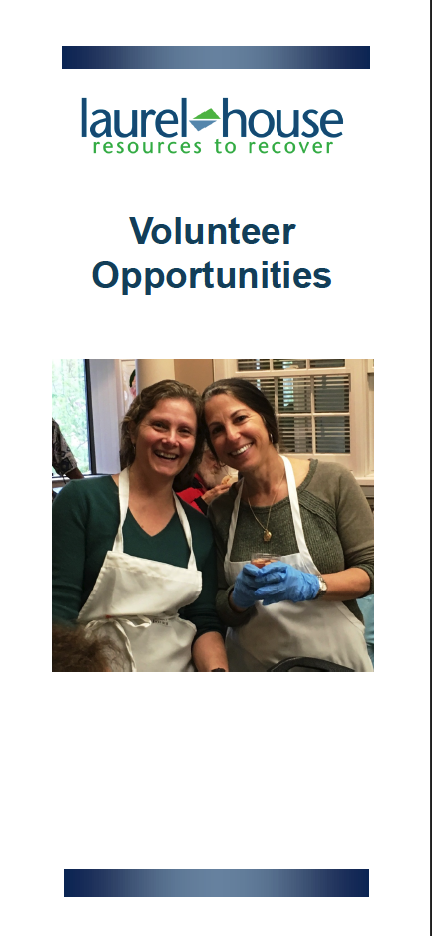 For information about current volunteer needs, please email Contact@laurelhouse.net with the subject line "Volunteer Opportunities".

Volunteer Spotlight
Barbara Josselsohn has always had a passion for writing. She is a novelist, a writer, a teacher at Sarah Lawrence College and Laurel House's new Writers' Workshop leader. Barbara said she loves being able to bring the joy of writing to Laurel House's program participants.
Barbara said, "I have found how much writing can bring to a person's life. It's healing, empowering, and lets you explore deep feelings. I've also found that being part of a Writers' Workshop, being part of a community, is a special kind of relationship. Writers talk about what they have written. They share their writing with others in the group and it fosters closeness."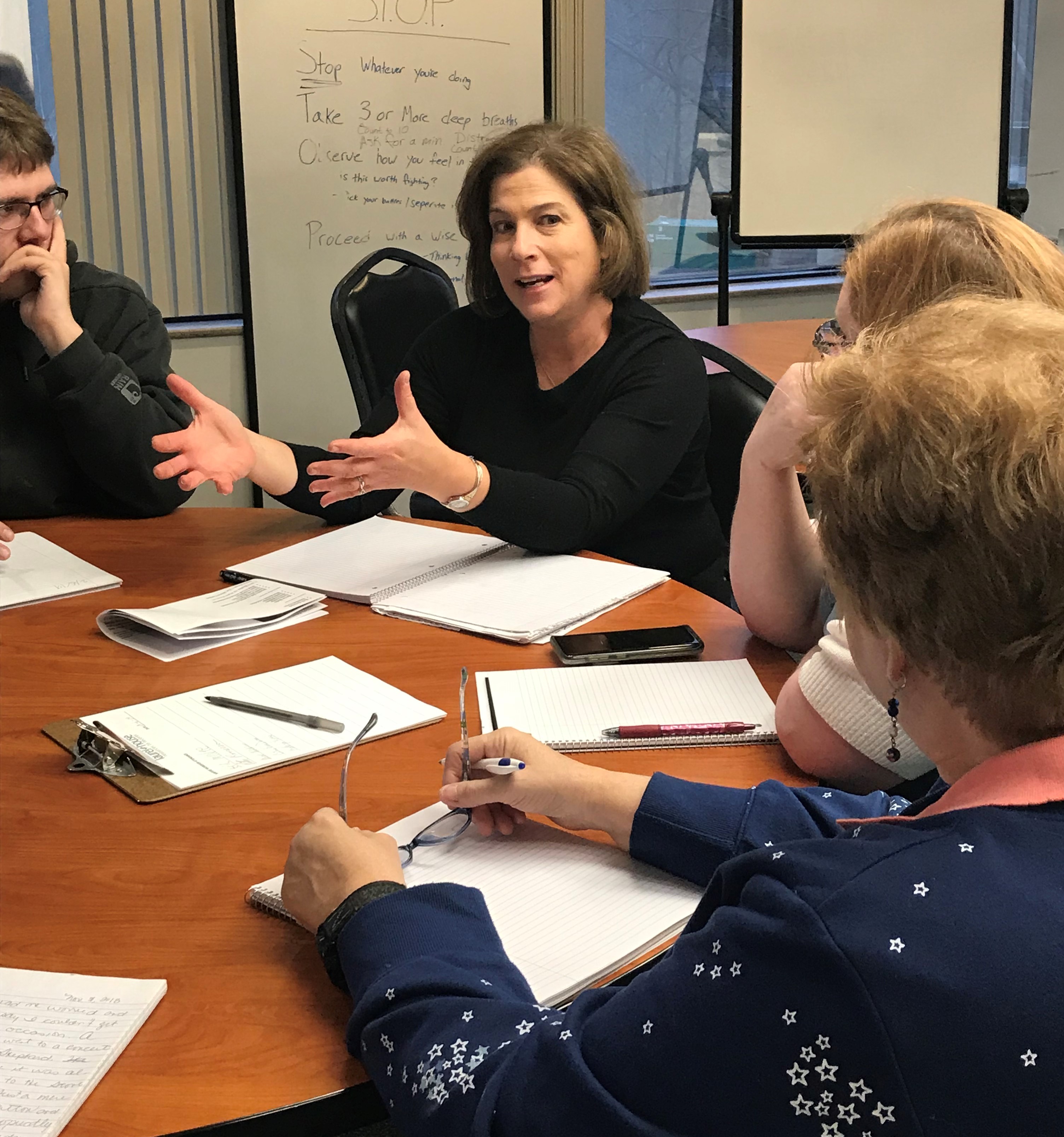 Barbara first started volunteering at Laurel House in September and says that she looks forward to leading the Writers' Workshop every Wednesday afternoon. Barbara said every time she walks into Laurel House's Resource Center she always gets a warm and inviting vibe.
Barbara stated, "I've been so warmed with the way that the people that come to the workshop are so supportive of one another. They are interested in what the others are writing, involved in one another's stories; that caring for one another just makes you feel good. It's definitely something that is very special about Laurel House."
Barbara learned about Laurel House's Writers' Workshop from her friend, Diane Cohen Schneider, who has been a long time Laurel House volunteer in the food service program. Barbara said that she was inspired by the amount of joy Diane got out of her volunteer experience at Laurel House.
Barbara added, "I really am grateful to be a part of the Laurel House community. It's one of the best things that's happened to me last year. The warmth of the place, the support and the commitment Laurel House has to offer, the kind of workshops and programs, it's really a pleasure to be here."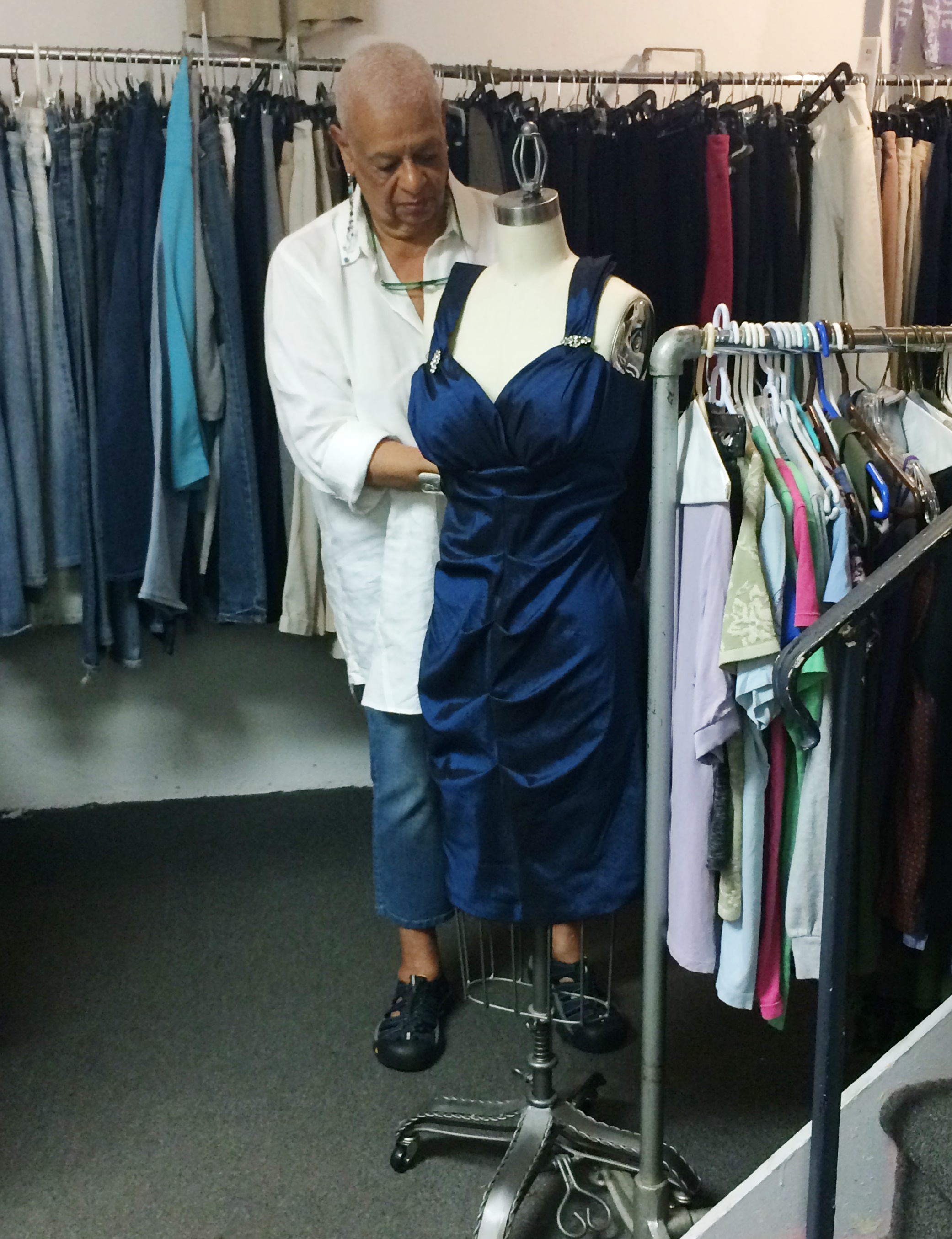 Eppie Eilets, 2018 Power of One Award Winner
Stamford – On Thursday, June 14th, Laurel House, Inc. will recognize Eppie (Esperanza) Eilets, a Stamford resident, as its 2018 Power of One Award winner. Each year Laurel House publicly honors one volunteer for his or her outstanding dedication to improving the lives of Laurel House program participants. Eppie began volunteering at Treasure Hunters Thrift Store three years ago, helping Laurel House program participants and customers' find vintage clothing, gently used furniture and antique items. Proceeds from the store support operating expenses and other Laurel House programs.
"I've learned what kinds of items that clients who shop here frequently are looking for and I put those items aside for them. It brings a smile to their face," said Eppie. Geno Lupinacci, Treasure Hunters Thrift Store Manager, said that since Eppie started volunteering at the thrift store his job has been a lot easier. "Eppie is great at organizing the items that come in, helping out anyone who comes into the store and supporting anything else needed with the store. She is also just so caring and excellent with the clients. They all love to come into the store and talk with her; that's what it's all about."
Eppie said that the best part about volunteering at Treasure Hunters Thrift Store is the numerous relationships she has built with Laurel House program participants over the years. "Laurel House participants come into the store and tell me about their day and just talk about really anything that's on their mind. They do a lot of talking and I do a lot of listening, it's a good combination."
Past Power of One recipients are: Diane Cohen Schneider, Nancy Fahey, Betsy Varian, Chitra Ramcharandas, Cindi Richardson and Laura Ryan.