Laurel House 2020 Champions' Tribute
Since we can't meet in person to pay tribute to the inspiring 2020 Champions for Recovery and our loyal Sponsors, we are honoring their accomplishments and our Supporters via video and this Recognition page. We invite you to watch the videos and scroll through the page to learn about our Town Champions and our Champion for Recovery, Dr. Anthony Rostain, and to applaud our Sponsors and Supporters.
Financial support for Laurel House's mental health programs and services, including www.rtor.org, a free service of Laurel House, is needed more than ever. Demand has increased for our services and for the help of our expert Resource Specialists who respond to rtor.org email and phone requests. People who have never experienced mental health or substance use issues are now dealing with anxiety, isolation and depression related to the COVID - 19 pandemic and to the stress and violence in the world around them. Please support the crucial work that Laurel House does to help program participants secure jobs, achieve certification and post-secondary education, and build skills for more independent living in the community.
Recovery, the Whole Family's Journey
When a family member struggles with mental health or substance use issues, recovery for the whole family is a journey – from heartbreak to healing. The goal of the Resources to Recover website (rtor.org) is to shorten the cycle of discovery that occurs when a family realizes that they have a serious problem at home and they don't know where to turn. Helping families and saving lives is what Laurel House and rtor.org and its clinicians do every day.
Thank you to Lily Genovese, Darien 2020 Town Champion, and her family for sharing part of their family story. People get better when families are involved in a healthy and balanced way.
We are pleased to honor our 2020 Champion for Recovery
Anthony L. Rostain, MD, MA
Co-Author, The Stressed Years of Their Lives

Chair, Department of Psychiatry and Behavioral Science, Cooper University Health Care

Professor of Psychiatry and Pediatrics, Cooper Medical School of Rowan University

Emeritus Professor, University of Pennsylvania
Thank you for your kind words Dr. Rostain! You are truly a Champion for mental health recovery!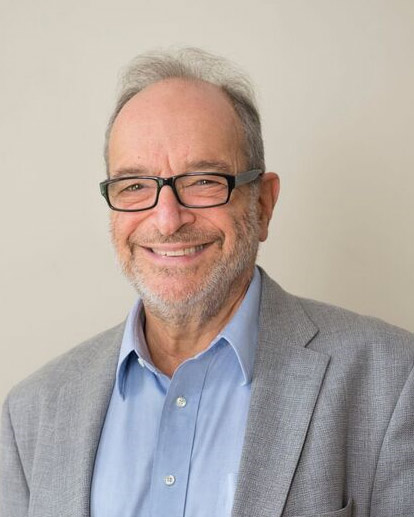 Anthony L. Rostain, MD, MA, adolescent and child psychiatrist and co-author of The Stressed Years of Their Lives, is Laurel House, Inc.'s, 2020 Champion for Recovery. Dr. Rostain is a nationally recognized speaker, educator, and expert in the field of child and adolescent psychiatry. He currently serves as Chair, Department of Psychiatry and Behavioral Science at Cooper University Health Care; Professor of Psychiatry and Pediatrics at Cooper Medical School of Rowan University; and Emeritus Professor at the University of Pennsylvania. Dr. Rostain is an attending and supervising psychiatrist at The Children's Hospital of Philadelphia (CHOP) and at Penn Behavioral Health of the University of Pennsylvania Health System. He was Co-Chair of the University of Pennsylvania's Task Force on Students Psychological Health and Welfare from 2014-2016.
Dr. Rostain's clinical focus is "lifespan neurodevelopmental psychiatry," which includes caring for patients with attention deficit hyperactivity disorder, autism spectrum disorders, Tourette syndrome, learning disabilities, and related social-emotional learning disorders. Dr. Rostain received his medical degree from New York University, and also holds degrees from the University of Pennsylvania and Yale University. He co-authored The Stressed Years of Their Lives, a book focused on encouraging students' social-emotional readiness so that they can thrive during their college years.
As parents and adolescent mental health experts, Anthony Rostain, MD, MA, and B Janet Hibbs M.F.T., PhD. know all too well how daunting it is to navigate the transition from high school to college. In The Stressed Years of Their Lives, they offer a comprehensive guide on how parents can prepare themselves and their children for the mental and emotional challenges college brings and the best course of action when students need professional intervention.
We are proud to honor our Town Champions who make their towns better places in which to live and work. Each represents one of the many towns in Fairfield County that Laurel House serves.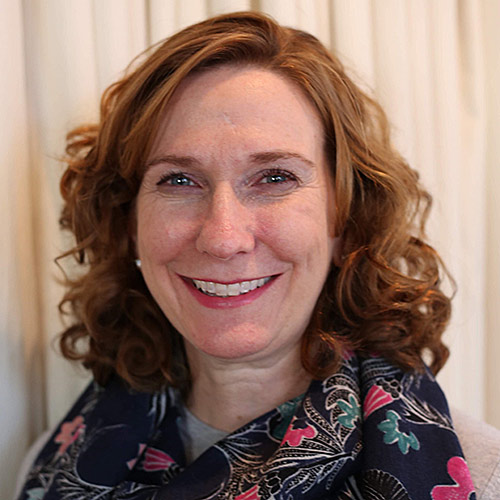 2020 Wilton Town Champion
Genevieve Eason
When Genevieve Eason's oldest child was struggling with anxiety and depression in high school, counselors often told Genevieve that she would be surprised how many teens were experiencing something similar.
It was meant to be reassuring, a way of reducing the stigma, but Genevieve wondered why so many teens were suffering and what could be done to prevent it.

In 2015, Genevieve joined the board of the Wilton Youth Council, where she found a group of volunteers and professionals who were committed to empowering the community with the skills and knowledge to help teens to thrive. Genevieve is now the first paid Executive Director of the Wilton Youth Council. Together, with the staff at Wilton Youth Services and Wilton Public Schools, Genevieve and the Youth Council examined the rise in mental health challenges among youth over the last few years. They have begun to shift the culture in Wilton toward a healthier environment for children and teens.
In 2017, the Wilton Youth Council engaged Suniya Luthar, Ph.D., to conduct a survey on the well-being of Wilton High School students. The results showed much higher rates of substance use, anxiety, and depression than national averages. Dr. Luthar attributed the results in part to the excessive focus on achievement by parents, students and schools. Wilton's willingness to confront the risks of achievement culture was profiled on National Public Radio's Morning Edition.
Genevieve also serves on the Wilton Commission on Social Services. She previously served on the boards of both the Wilton Youth Council and the Southwest Regional Mental Health Board and currently serves on the Town of Wilton Commission on Social Services.
Another initiative being pursued in Wilton is the Free Play Matters Task Force. This group of parents, school staff, and local organizations educates the community about the critical importance of free play to children's well-being and facilitates the creation of more free play opportunities for children in Wilton. The work of the task force will be highlighted in an upcoming feature documentary from filmmaker Eden Wurmfeld.
Genevieve graduated from the University of California, with honors, and received her B.S. in Biology. She and her husband, Robert, raised three children in Wilton, where they have lived since 1999.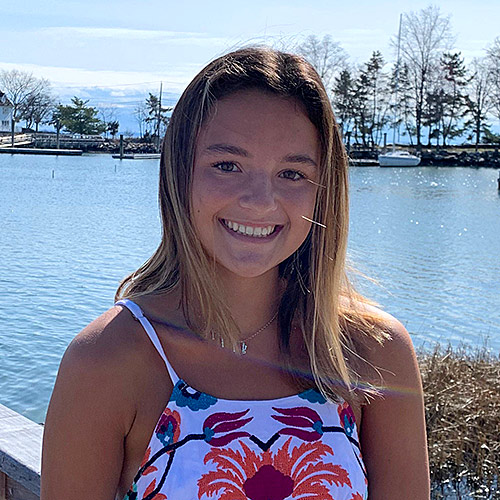 2020 Darien Town Champion
Lily Genovese
Lily Genovese, a life-long Darien resident and senior at Darien High School, has been involved in the Darien community from day one.
As a freshman, Lily joined the Darien Depot Teen Center Student Governing Board and is currently serving her second year as Co-President of the Depot's Board. She also joined the Darien Community Fund's Youth Asset Team in her freshman year and currently holds the position of Co-President. Lily's passion for those organizations grew in the aftermath of the tragic death of her cousin, Sean Vogel, who died by suicide in November of 2017.
After her cousin's death Lily realized that mental health awareness was something that was missing in her community and was a topic in which students and their parents should engage. Lily gave speeches at several events and club meetings, asking fellow members to join her battle. Lily also worked at Morley, a local Darien boutique, for almost two years and firmly believes that the skills she developed by working with customers strongly affected her character and her motivation to speak up.
Lily partnered with Janice Marzano, head of the Darien Depot Teen Center, to share her message and brought Emily Torchiana, a mental health activist, to speak at the Darien Library in 2018 and 2019. She also worked with Emily Larkin, Community Fund of Darien's Youth Asset Team Advisor, to shift the club's focus from binge drinking to also include a focus on mental health.
Lily uses her passion for writing as a platform to share her message of hope and awareness. Lily is Co-Editor in Chief of the Darien High School Newspaper, Neirad, and is a regular contributor to The Darien Times. In 2018, an article by Lily, 8 Things You Should Know About High School Feminists, appeared in Conde Nast's Glamour Magazine.
In October 2019, Lily published an op-ed piece in the Darien Times titled, Dear Readers, Please Stop Asking me Where I Want to go to College. Lily expressed the stress that the question triggered, as most of her classmates were in the middle of the daunting process of submitting applications. (Lily will be studying at Colgate University.) Lily's March 2020 Darien Times op-ed piece was a letter to her fellow Darien High School senior classmates, about the COVID-19 crisis, and how it has affected her life, her peers, her school, and her community.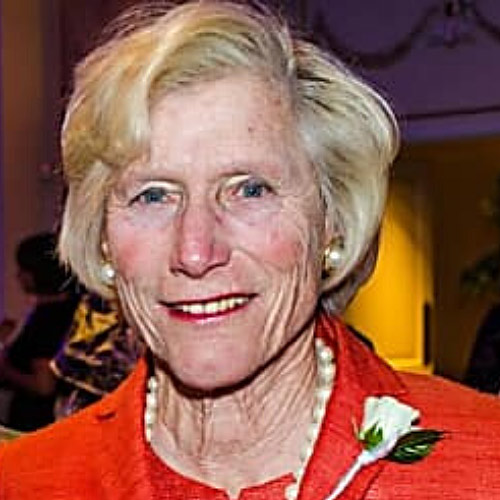 2020 Greenwich Town Champion
Penny Johnston - Foote
Penny Johnston-Foote has been a resident of Riverside (Greenwich) since 1973, raising her two daughters in town. Penny is one of three daughters of a psychiatric social worker, and has been actively involved in nonprofits most of her life.
Penny was a member of the Grace Notes, a Greenwich a cappella group (formerly named the Therapeutical Music Organization), which sings for nursing homes, senior centers, hospitals and many of the disabled population, for almost 30 years. She has also volunteered for and supported Family Services of Westchester (FSW), an organization that her mother, Marjorie Dammann, co-founded almost 60 years ago. Penny was Honorary Chair of FSW's Diamond Anniversary Gala.
Most recently, Penny and her husband, Ray Foote, have been involved in "My Second Home", an intergenerational program, coupling seniors with cognitive problems and day care children. The program is now being replicated in other parts of the United States. Penny was involved with FIRST (Family Information Referral Service Teams), which was used by people in the community (e.g., librarians, policemen/women, teachers, and peers) to refer members of their community with mental health, aging, physical and medical issues, and other needs. She was also involved with two organizations, the American National Theatre and Royal Family Production, which help bring nonprofit plays from outside New York into the metropolitan New York City area. Penny was a former Board Member of the Rye Country Day School and Skidmore College, the latter of which she is now a Trustee Emerita.
Penny has run The Dammann Fund, Inc., a family foundation for many years. It supports programs that foster independent living for those living with mental illness as well as programs for teen parenting. The Dammann Fund has generously supported several of Laurel House's programs such as Thinking Well and Supported Education. Penny said that she is enormously proud and supportive of Laurel House, Inc. and the wonderful work they do!
When Penny is not spending time with her husband, children, stepchildren, grandchildren and step-grandchildren, she used to be found on the tennis or paddle courts and now most likely on the golf course.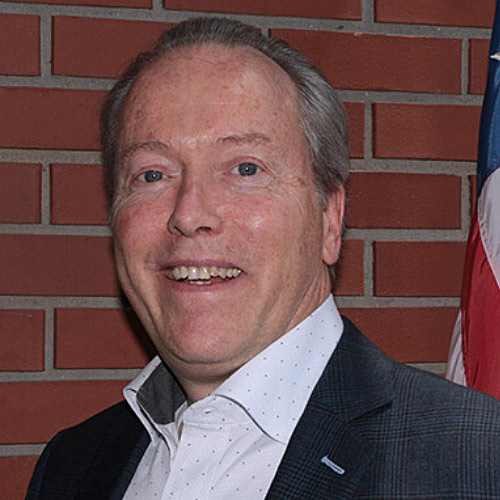 2020 New Canaan Town Champion
Leo Karl III
Leo Karl III, President of Karl Chevrolet in New Canaan, Connecticut, is a hard working business owner, devoted family man and passionate philanthropist.
Leo recently completed over a decade of service as a board member of the New Canaan Community Foundation (NCCF). During his time at NCCF Leo served twice as Annual Appeal Co-Chair, was an Annual Grant Review Volunteer, and a two-term board member, including a term as Board Chair. Under Leo's leadership, NCCF completed a Strategic Planning Process that resulted in the first ever "area of focus" for the Foundation: Behavioral Health and Substance Use, topics of vital importance to the overall health and wellness of the community.
The NCCF Behavioral Health Committee's work has led to a community wide initiative entitled "Let's Talk About It." The initiative aims at breaking down the barriers of isolation, reducing stigma, and increasing awareness around mental health. The goal is to ensure there is a coordinated set of mental health services available for those who need them, and to make it socially acceptable to talk about the challenges individuals and families face when dealing with these issues.
Leo currently serves as Vice-Chair of the Waveny Lifecare Network's Board of Directors. He previously served as President of the Rotary Club of New Canaan, where he was a member for over 30 years. Leo led the development of a private-public partnership between the New Canaan Athletic Foundation, a community run nonprofit, and the Town of New Canaan, to ensure the future needs and improvements of New Canaan's Athletic Facilities.
Leo is former Vice-President of the New Canaan Lacrosse Association, where he served as a coach of the Girls Lacrosse program, and as a referee, for over 15 years. Leo is a third degree member of the Knights of Columbus. He also previously served on the Board of the New Canaan United Way, and as a volunteer on the Junior Achievement of Southwestern CT.
Karl Chevrolet has been consistently recognized for outstanding customer service on a local, regional and national basis. The company was founded in 1927 by Leo's grandfather, Leo E. Karl Sr. As the third generation leader of his family business, Leo has been active in several area Chambers of Commerce and has served as President of the Metro New York Chevrolet Dealer Association.
Leo graduated from Sacred Heart University and received his B.A. in Business Management. His two daughters, Melissa and Jessica, both live and work in New York City. Leo's wife, Janet, is a Career and Education Consultant, who works with young adults enrolled in college or young adults who have recently graduated college. Leo and Janet live in New Canaan.
Laurel House needs your support!
If you feel inspired by the volunteerism and work of our Champions or by viewing Recovery, the Whole Family's Journey, you can help continue Laurel House's work in mental health recovery by clicking the button below. Your donation can help hundreds of families struggling with mental health and/or substance use issues connect with the help they need to shorten their cycle of discovery.
Sponsors' and Supporters' Showcase
Please support our Sponsors! Year after year there are businesses, organizations and individual donors who make our programs possible through support of our events and often through grants as well. We thank them for their ongoing generosity and their commitment to mental health recovery!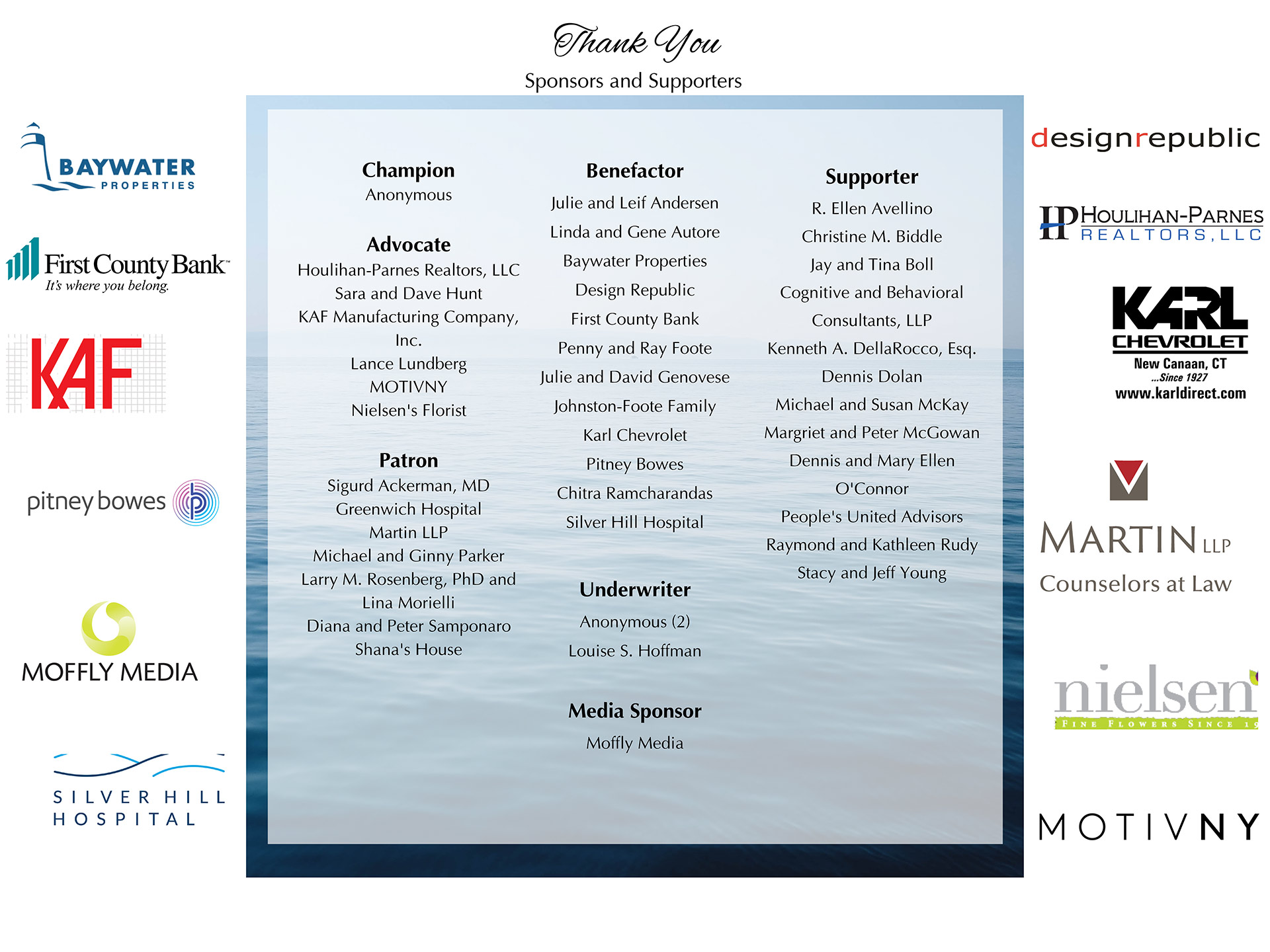 Thank you for being part of our celebration! Let us know if Laurel House or www.rtor.org and its Resource Specialists can be of help to you or your family member or friend.