By: Michele Graham
Photos by: ChiChi Ubiña
March 5, 2019
Adrianne Singer's touch is felt throughout Greenwich. It's in the systems that help run the town's government, in the transparency that keeps residents informed, in pioneering efforts to address domestic violence, and it's in the countless lives she's improved. Today, after decades of tireless commitment to the Town, Adrianne is being honored by Laurel House as a Greenwich Town Champion.
Adrianne wasn't always the consummate leader and volunteer. Her professional career took off after she received her master's degree at NYU. She was Associate Editor at BOSTON Magazine, and worked at IBM for 23 years, where as Director of Communications, she led IBM's global sales force and business partner marketing and communications.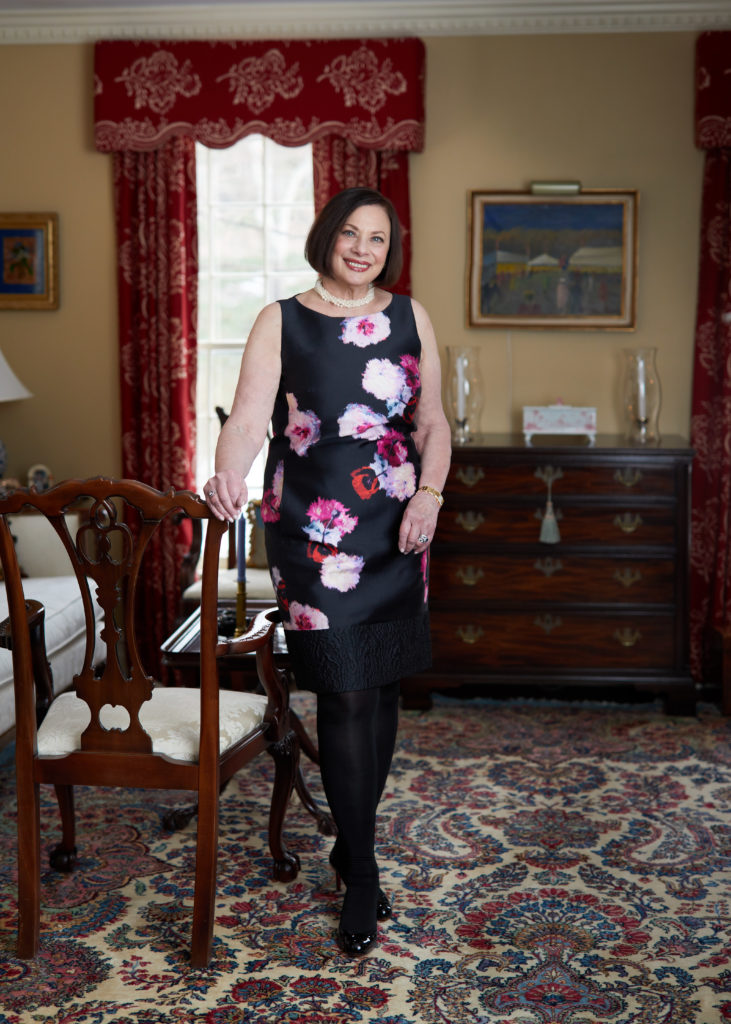 Adrianne's motto remains the same as when she first started out so many years ago: "If you don't think something is working well, get involved and work on fixing it." Spoken like a true champion.
For most people, this would have been achievement enough, but not Adrianne. After her retirement from IBM in 2001, Adrianne worked for Greenwich's First Selectman as Director of Strategy and Communications and launched Greenwich's first interactive, ecommerce website. At last, residents could pay parking tickets and bills online, and easily retrieve information about every Town department.  Adrianne also produced the Town's first Survey and Annual Report for residents.
Preserving and Enriching a Town Jewel
And then came perhaps the biggest challenge: from 2003 to 2016, Adrianne served as president and CEO of the YWCA. It's hard to imagine, but 16 years ago, the beloved institution was under construction and nearly insolvent. Adrianne oversaw record-breaking fundraising, increased revenue, managed costs, and turned around the YWCA, shaping it into a strong and thriving organization.
It was during this time that Adrianne also introduced domestic violence education across Greenwich—from the police department to high school students. The number one violent crime reported in the Town, Adrianne made sure YWCA services were expanded for victims. Hotline calls increased to over 3,500 a year and the police extended the number of trained officers from 1 to 17.
Vice President Joe Biden recognized Adrianne at a ceremony in Washington, D.C. for leading one of the country's premier domestic violence agencies. 
Adrianne recalls, "I was humbled to receive this extraordinary recognition from our Vice President as he wrote the original Violence Against Women Act in 1994.  Only through the very generous support of our community, was the YWCA able to expand significantly all of our free services for victims — from our hotline, counseling, shelter, court and legal services to free violence prevention training for public school students, residents and professionals."
But Adrianne's imprint went even further. True to the YWCA's mission to empower women and eliminate racism, Adrianne brought in educational and women-focused seminars, racial justice events, and educational and extracurricular scholarship programs. She was instrumental in bringing in youth STEM programs and constructing new facilities, including the first water playground in Connecticut.
A True Town Champion
And there's more. For more than 25 years, Adrianne served in leadership roles at the Greenwich Scholarship Association. She also served on the YWCA Greenwich Board of Directors, Town of Greenwich Diversity Advisory Committee and Greenwich Hospital Community Advisory Committee. A long-time member of the Junior League of Greenwich, she was a member of the Skidmore College Board of Trustees and is currently Chair of her Reunion and Class President.
She's the recipient of the Connecticut Public Service Award and the YWCA Greenwich BRAVA Award. And now, through Laurel House, she can also add the honor of Greenwich Town Champion.
Each year at its annual fundraiser, Laurel House recognizes Town Champions from among the eight towns—from Greenwich to Westport—that the organization serves. Linda Autore, Laurel House President and CEO, notes, "Adrianne was selected as Laurel House's 2019 Greenwich Town Champion for her more than 40 years of dedication to the Greenwich community and the significant impact her work and advocacy has had on the lives of the residents. We admire her numerous accomplishments. In particular, we applaud how she applied her expertise as a cause marketer and a businesswoman to improve and sustain the financial health of YWCA Greenwich while advocating for and providing crucial support and services to the victims of domestic violence."
"I am deeply honored to have been recognized by Laurel House as the Greenwich Town Champion," said Adrianne. "Laurel House is an outstanding agency which, for the past 35 years, has assisted Greenwich and Fairfield County individuals and families living with mental health and substance abuse disorders.  Through Laurel House's programs, those they serve learn to lead fulfilling and productive lives.
It was while working at the YWCA that Adrianne was introduced to Laurel House. "At Greenwich's Department of Human Services' partnership sessions, I saw how fortunate Greenwich is to have Laurel House's impressive, specialized services for mental health clients as they would not otherwise be available in our Town."
Under the umbrella of Resources to Recover, Laurel House provides a family of programs that encompass early intervention, social inclusion, and recovery. Dr. Alan Barry, Commissioner of the Greenwich Department of Human Services, stresses the importance of early intervention in mental health services.  "We need to start wrapping services around these high-at-risk kids."
Continued Commitment
These days, this mother of two, grandmother of five, travels the U.S. and Canada with her husband visiting their family. Adrianne continues to be committed to causes she believes in, though she's taken a step back from community leadership. Currently, she is a member of the United Nations Women's International Forum and Off the Record, the longest running women's foreign policy forum in the country.
Adrianne's motto remains the same as when she first started out so many years ago: "If you don't think something is working well, get involved and work on fixing it." Spoken like a true champion.
 Tickets to An Evening with Laurel House, on Saturday, April 27th, (at the Delamar, Greenwich) are available at https://www.laurelhouse.net/events.html